Please select a valid form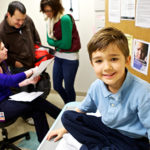 When it comes to medicine, kids shouldn't be treated like small adults. Our staff knows your child is unique and requires individualized care. We specialize in caring for kids from birth to age 18 and provide all types of physical exams, treatment of injuries and illness, immunizations, screenings to test for illnesses, treatment of minor injuries, and minor procedures.
Having a baby? Click here to read why choosing a board certified pediatrician for your child is important.