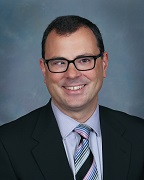 Antibiotics and other medications are a scientific advancement that save countless lives each day. Unfortunately, these life-saving tools can become dangerous when taken incorrectly.
Charles Hill, a Registered Pharmacist and the Director of Keystone Pharmacy, gives medication safety tips for the two age groups most at risk for medication errors and overdoses – children and older adults.
Medication Safety For Children
Accidental medication overdoes in children are all too common. By following some safety guidelines, parents and caregivers can be sure their child is taking the proper medication and dosage.
When giving a child over-the-counter medication, always read and follow the instructions on the "Drug Facts" label. Double-check that you are giving the right medicine in the right amount to the child. Know and pay attention to the difference between a teaspoon (5 mL) and a tablespoon (15 mL) and know the current weight of the child as many medication dosages go by weight. If the child is on any other medications, talk to the pharmacist or your healthcare provider to make sure the medications can be given together.
Proper medication storage is also important. Keep medications where they are out of reach and out of sight. Using a child latch or lock is another good safety measure to consider.
Poison Control
If you think a child has swallowed medication that they should not have, stay calm and act quickly. Call 911 immediately if the child can't be awakened, is having difficulty breathing, collapses or has a seizure. If the child does not have these symptoms call the Poison Help number, 1-800-222-1222, where an expert in poisoning is available 24 hours a day, seven days a week. It's a good idea to save this number in your cell phone or keep it somewhere in your home where you can easily locate it, such as the refrigerator. Calls are free and confidential.
Have the following information ready if you need to call: Your name and phone number, your child's name, weight, and any medical conditions he or she has, any medicine your child is taking, the name of the item your child swallowed, the time your child swallowed the item (or when you found your child) and the amount you think was taken.
Medication Safety For Older Adults
Taking multiple medications becomes more common as people grow older. The more medications you take, the greater your chances are of experiencing harmful drug interactions or side effects. Keep a list of the medications you take and make sure it is up to date. This list should include the name of the medication, the dosage, why you take the medication and how often you take it. Share this list with any healthcare provider that you see, and also consider giving this list to a loved one in case of an emergency.
Only take medication as it is prescribed. Never take a prescription that has not been prescribed to you, and do not skip doses or stop taking the medication without talking with your healthcare provider. Even if you are having side effects, contact your provider before going off the medication.
For over-the-counter medications, make sure you pay attention to the "Drug Facts" label and follow the instructions carefully. Also be sure to read the leaflets included with new prescriptions. This will help you to be aware of potential side effects and drug interactions.
You should review all your medications with your healthcare provider frequently, ideally at each visit. This includes prescribed medications, over-the-counter medications and any supplements that you may take. Your provider will be able to help you decide which are necessary and can determine if you are able to stop taking any.
Talk To Your Pharmacist
Another medication safety tip is to use just one pharmacy. This helps your pharmacist keep track of which medications you are taking so they can keep an eye out for potential interactions or side effects. This is often more convenient for you as well, as they may be able to coordinate your refills to save you multiple trips to the pharmacy. If you have any questions related to your medications, don't guess or take any chances. Your pharmacist is there to help!
This article contains general information only and should not be used as a substitute for professional diagnosis, treatment or care by a qualified health care provider.