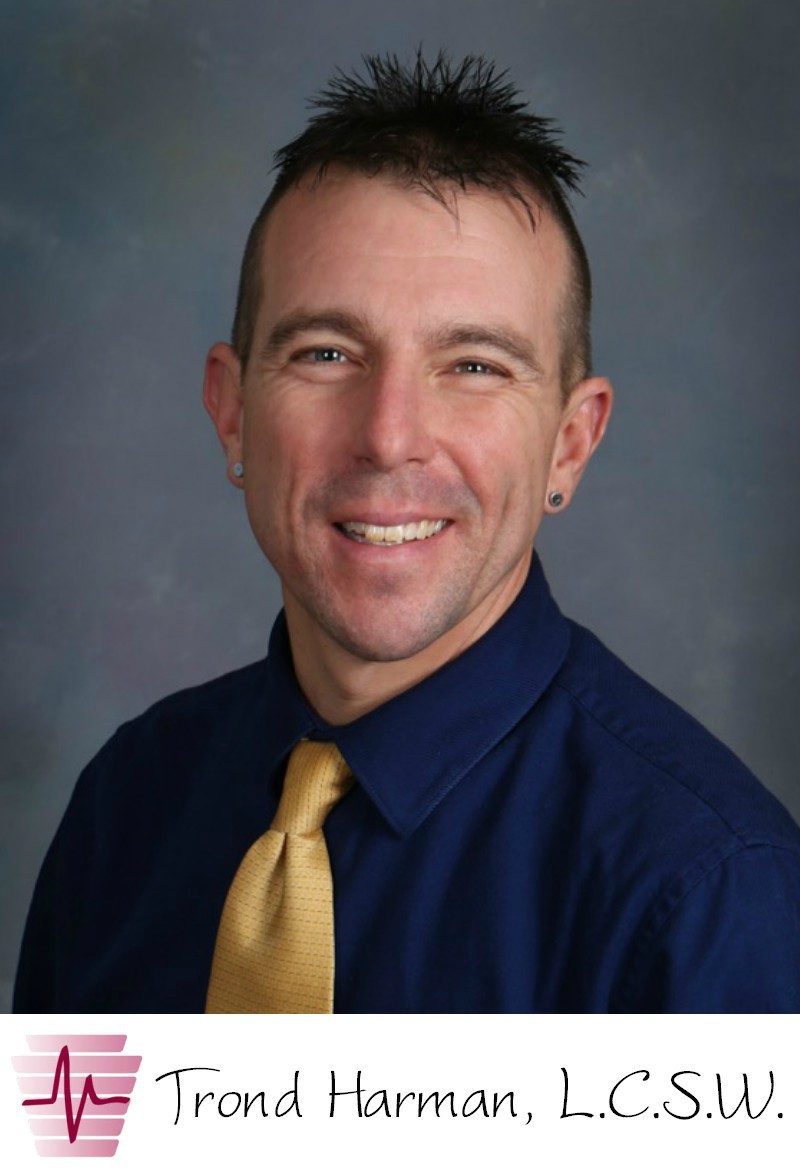 The Keystone Health Employee Spotlight for June shines on Trond Harman, Licensed Clinical Social Worker at Keystone Pediatrics Chambersburg!
Trond has been employed at Keystone since October 2016 and spends his days providing therapy to children, teens, and their families.
While many people would view his occupation as difficult or stressful, Trond views it as rewarding.
"I am proud to be able to have a gift of helping others," he said. "There are many times that I hear people say, 'I could never do what you do.' I have never viewed my job as a social worker in this way. I have always just done the job to the best of my ability and did everything I can to help people with being the best they can be no matter what they have been through in life.
"I was previously studying to be a teacher in undergraduate school and then had a family tragedy that deeply affected me. I realized then that I could not help these kids with problems by giving them more homework. I needed to be able to do something more."
Trond is glad he made that decision as he enjoys watching the improvements his clients make each day.
"My favorite part of my job is when I see children and their families making progress and reaching their goals," he said. "As a social worker, there is nothing more satisfying than watching this growth. It is good to be able to tell the kids that you are proud of how far they have come and how hard they have worked to make their own progress happen."
Not only does he find his line of work rewarding, Trond also feels fulfilled by working at Keystone Health.
"Keystone is definitely the best place I have ever worked at and I wish I would have found them much earlier in my career," he said. "They support you as an employee and as a person. I have worked for so many places that are quick to find ways to say you did something wrong and never look at what they may have done or not done that lead to this problem. These types of places make you feel like someone who is expendable and can be easily replaced. Keystone values you as a person and they are appreciative of what you give to the company. If there is a problem, they work through it with you and discuss how both sides can work to make things go better in the future."
Those who work in healthcare know there is a growing need for therapists in the community, and Trond takes pride in helping as many clients as possible.
"I am normally quite busy," he said. "Most of my days are booked with sessions. I have a few openings here and there, but on average I see about seven or eight kids per day. It keeps me busy, which I like, and I know that I am making the most of my day by seeing as many kids who need support as possible."
Trond also keeps busy in his personal life. He lives in New Oxford, PA with his wife Angela and their children – Aaron, 16, Jack, 13, and Elsie, 7. They also have three dogs and "too many cats to count."
"The cats, other than three of them, live outside and help to keep the mice away since we live in the country and tend to have a lot of them around," Trond said. "We live about 10 minutes from Gettysburg and love it there because we are big Civil War buffs and we like going to the battlefield and town even if it is just to get ice cream. We love the atmosphere and nostalgia in Gettysburg."
In addition to being a Civil War buff, Trond also enjoys the subject of true crime and enjoys listening to podcasts during his commute to and from work.
"I think it relates to me on a number of levels," he said. "I think the first part is a desire to better understand the human psyche and why people think and behave a certain way. I also have a desire for justice and to see that everyone is treated appropriately."
What people may be most surprised to learn about Trond is his love for running, and his daily work-out routine.
"Most people think I am crazy but it makes me feel better to run," he said. "I am currently running 11 miles every day. I normally run inside on a treadmill, but I do get outside for races if we are out of town. The running helps me to focus in the morning. It clears my mind and prepares me for the day. On the rare occasion that I miss a day of running before coming to work, I can honestly say that I have less energy. I would also say that I did not wake up one day and decide that from here on I am going to run 11 miles every day. It has taken me years to work up to where I am at today with my running."
Thank you, Trond, for all that you do for Keystone and our patients!