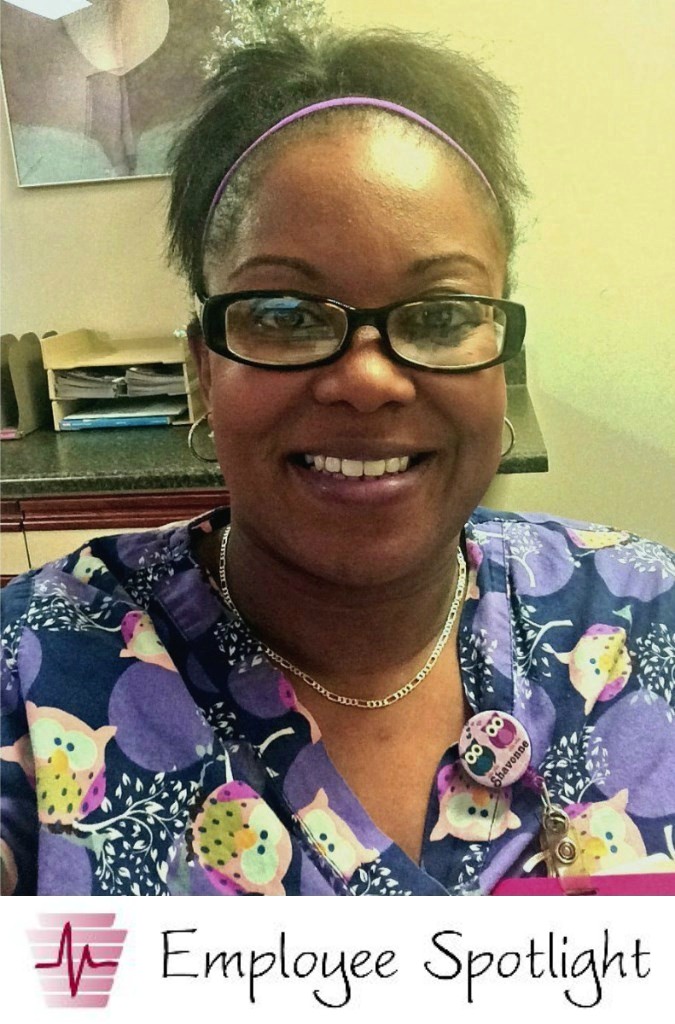 The Keystone Health Employee Spotlight for May shines on Shavonne Statum, Office Coordinator at Keystone Community Outreach!
Shavonne started her journey at Keystone in June of 2013 at our Chambersburg Pediatric office. When Keystone opened its Community Outreach site on Lincoln Way East in the summer of 2016, Shavonne applied for and received her current position.
"Ultimately, it was Keystone's mission statement that led me here versus other health care facilities in the area," Shavonne said. "It gives me a sense of pride when I hear patients talk about how grateful they are for a service that Keystone provided them when no other facility would, due to lack of insurance or inability to pay at the time of service."
Everyone who visits Keystone Community Outreach and crosses Shavonne's path can count on a warm greeting and a smile.
"I always start off each day with a big smile and a cheerful 'Good morning!' she said. "I think it's important to spread a little sunshine first thing in the morning to set the tone for the day. I love the fact that we all like to have fun here. It's a great atmosphere, and patients enjoy the warm welcome too. I love to see people smile and I'm glad that I can be a part of the reason they do so."
When she's not welcoming visitors at the front desk, Shavonne keeps busy with many other tasks.
"We typically see patients from 9 am until 5 pm Monday through Friday, with extended hours until 7 pm on Tuesdays," she said. "You can find me doing a variety of different things such as checking patients in, answering calls, scheduling, scanning, testing, attending meetings and trainings, or working on reports."
Shavonne enjoys knowing that the effort she and her co-workers put in each day has a lasting impact in our community and beyond.
"I love meeting new people and being able to assist those in need," she said. "We are fortunate enough to see patients from many different areas. Knowing we are able to help change lives for the better, gaining trust and understanding and building relationships within our community is what makes me most proud of what we do."
When she's not at work, Shavonne's family life and hobbies keep her very busy.
"My immediate family consists of my fiancé Robert, my sons J'Vaughn and J'Lhen, and the newest addition, our baby girl Milan! I come from a huge, close knit, loving family. We always find reasons to get together and if we don't have a reason, we just make one up. Our family is so large that our family reunions take place in a different city or state each year. The location is decided by the committee, which I'm a part of, and lasts for three days. We have a president, vice president, treasurer, historian, secretary, etc. on the committee. We've gathered in places like Charlotte, NC, Kissimmee, FL, Memphis, TN, and Mt. Laurel, NJ just to name a few. Next year is a special celebration in which our reunion will be hosted via a cruise liner. What can I say, we love to have fun!"
Shavonne's hobbies include reading, dancing (including Zumba), trivia, cooking, baking, skating, swimming, traveling, and sports. She is a team mom for both of her sons' sports teams which include football, track and field, and Amateur Athletic Union travel basketball.
When asked what people may be surprised to know about her, Shavonne revealed two hidden skills: "I am a certified phlebotomist and also have my Commercial Driver's License," she said. "I was teaching preschool in 2009 and we didn't have enough bus drivers to go on many field trips. I decided to obtain my CDL so I could drive the children myself."
While she's originally from Chambersburg, Shavonne moved her family to Shippensburg last year.
"I like the small-town feeling this area provides," she said. "Wherever I go, I run into people who know me or my family. I often hear 'Are you related to…' It's a great feeling to know that people know you come from a great family! However, one day I plan on moving to Wake Forest, NC. That's my dream location!"
Thank you, Shavonne, for all that you do for Keystone and our patients!