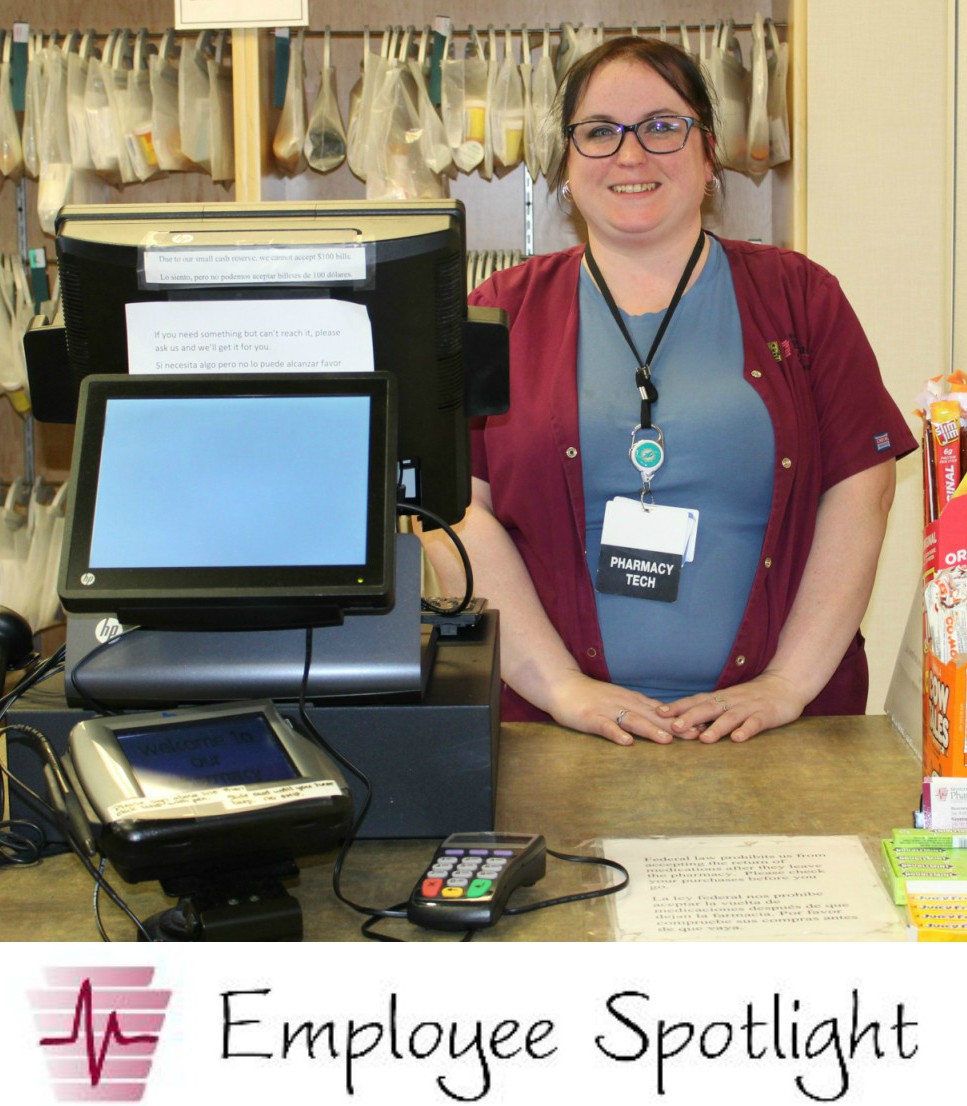 The Keystone Health Employee Spotlight for March shines on Mary Long, Certified Pharmacy Technician at Keystone Pharmacy!
Mary began working at Keystone in September 2013 after seeing a job opening online. She was familiar with Keystone and the pharmacy from taking a family member to appointments in the building. While she had worked at pharmacies in the past, Mary found that working at Keystone was different.
"I have been a certified pharmacy technician for over 10 years and Keystone Pharmacy has some of the most knowledgeable Pharmacists I have known," she said. "I have learned a lot from them through the years and have become a better technician because of it. A lot of chain pharmacies are mostly concerned with the number of scripts you pump out in a day and less about the quality of patient care. Sadly, this is how I was used to operating but working here has taught me to slow down and take pride in what you do. It's not just another customer – it's a life."
Helping Keystone's patients quickly became Mary's favorite part of the job.
"It's a small community and a small pharmacy so you get to know the patients very well," she said. "They like the fact that you know them by name. I appreciate that Keystone helps people in need who maybe cannot afford their medications, either with the 340B discount, reduced fee, or just finding a co-pay card for them."
Assisting the customers, as well as her other duties, ensures a busy work day.
"I work 10:30 am-7 pm," Mary said. "In the morning I usually run reports, reconcile third party claims, update inventory, cover lunches when needed and assist the pharmacist and technicians with anything they need. At 4:30 most of the daytime staff leaves and I go out front and input and fill scripts, wait on patients at drop off/pick up, complete our drug order for the day and close the register at the end of my shift."
Mary also stays busy in her free time.
"I love to cook and bake, and I also love to paint. I'm not very good at it but I think it's fun and relaxing."
While she is not a Chambersburg native, Mary appreciates the perks of living in a rural area.
"I am originally from Upper Darby which is outside of Philadelphia," she said. "My family and I moved to Chambersburg in 2009 so that my niece and nephews had a safer upbringing. I love all of the landscapes and the changing of seasons in Chambersburg. Spring in this area and spring in the city are totally different. There's not much green grass in the city. My favorite time in Chambersburg is Christmas; I love how the square and downtown area is decorated and lit up. It reminds me of Christmas movies I used to watch as a kid."
Thank you, Mary, for all that you do for Keystone and our patients!