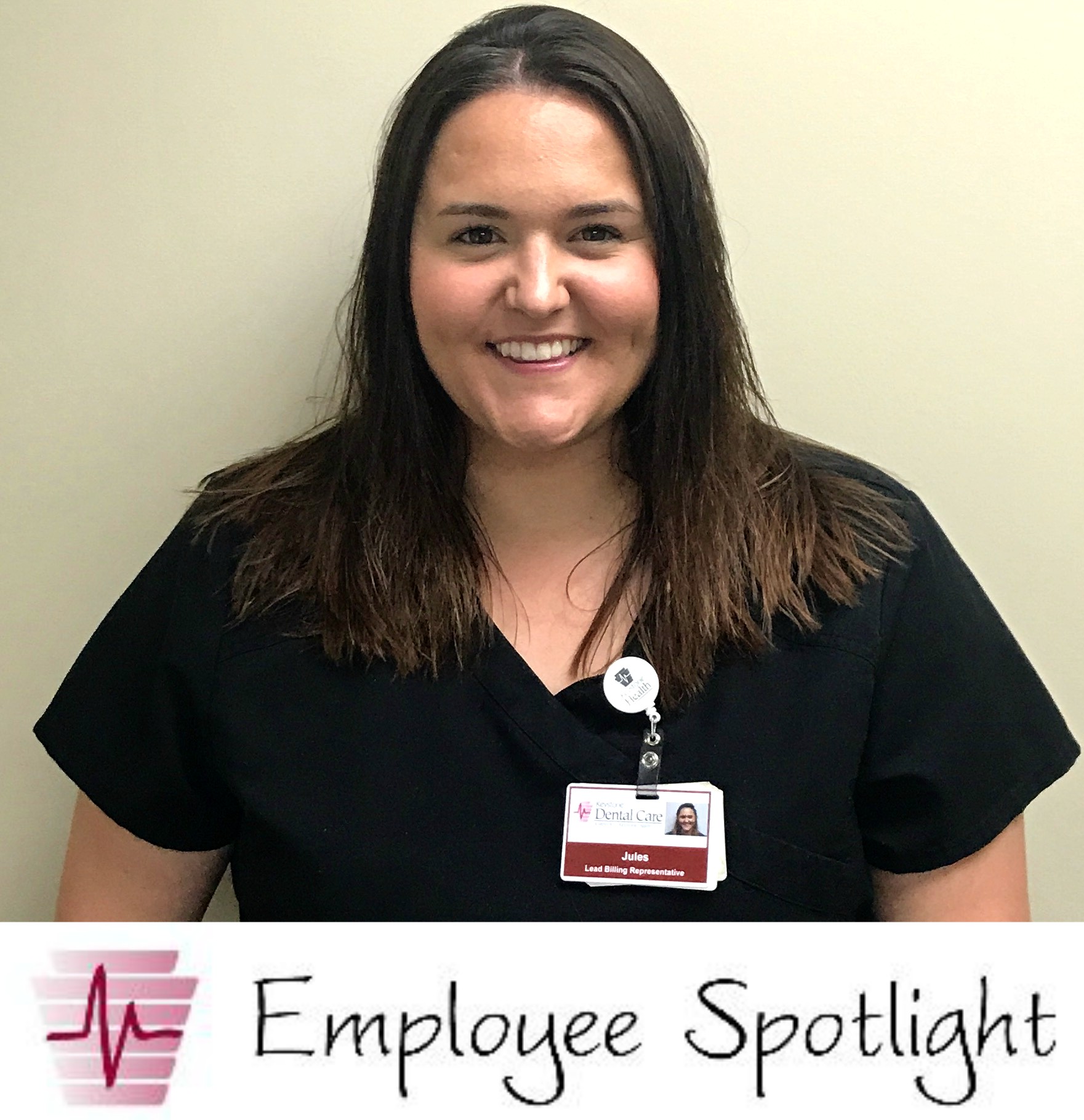 The Keystone Health Employee Spotlight for June shines on Jules Bulka, Lead Billing Representative at Keystone Dental Care!
Jules began working at Keystone in 2013 as a front office representative.
"I was attending college at the time, but I had no idea what I wanted to major in," she said. "I decided to take a break and look for a better job in the meantime, which led me to Keystone. What I soon realized is how there are many possibilities of advancing within Keystone. I went from being a front office representative to becoming a billing representative, to now the lead, and I have enjoyed every step of the way."
One of the things she enjoys about her job the most is her co-workers.
"My favorite part is honestly having the people I work with," Jules said. "The atmosphere of the office I work in and the team that works alongside me every day makes it worthwhile to be here. We don't always see eye to eye, but at the end of the day we all have one goal and that is to get the job done and we have fun accomplishing it."
She also enjoys knowing that Keystone is making a difference in the lives of our patients each day.
"Keystone is an organization that will always put their patients first and I know myself and my fellow co-workers do the same," she said. "It's a wonderful thing to see others go the extra mile to help assist our patients in all aspects. I take pride in the fact that many of our patients see Keystone as more than just a business and that they can put their trust in us."
While Jules does most of her work "behind the scenes," she still plays a big part in the healthcare team.
"I take pride in being a part of the last steps in a patient's visit," she said. "The billing department does not get a lot of face-to-face interaction with the patients, but we make many phone calls either to the insurance companies or to patients to ensure that their experience after they leave the office is just as smooth. At one point I did not know the answers to some of the questions we are asked by patients, but now it makes me feel really good when a patient gets to have that 'ah-ha moment' because of the explanation I was able to give."
While each day can bring new challenges, Jules is always ready to give her best effort to keep her department running smoothly.
"There is always something new to work on in billing," she said. "You always have your everyday tasks, but there are many different questions that need answered throughout the day as well. On a normal day it's posting payments, making calls, and keeping up with the constant flow of mail. It is an endless cycle, but I enjoy it."
In her free time, Jules keeps busy with her favorite hobbies: hunting, traveling, walking and hiking, tubing in nearby creeks, and spending time with her family and friends. Her love of traveling has led her to visiting nine different countries, and she will soon add one more when she and her mother visit Peru this month.
"I have been very blessed to have my mom join me for many of my travels," she said.
Jules lives in Carlisle with her husband and three pets.
"My husband and I have been together since we were 13, and we will be celebrating our third wedding anniversary in August," she said. "We have a beagle/rottweiler mix, Luca, a husky, Rumor, and our cat, Echo. We look forward to starting a family of our own in the future."
Thank you, Jules, for all that you do for Keystone and our patients!