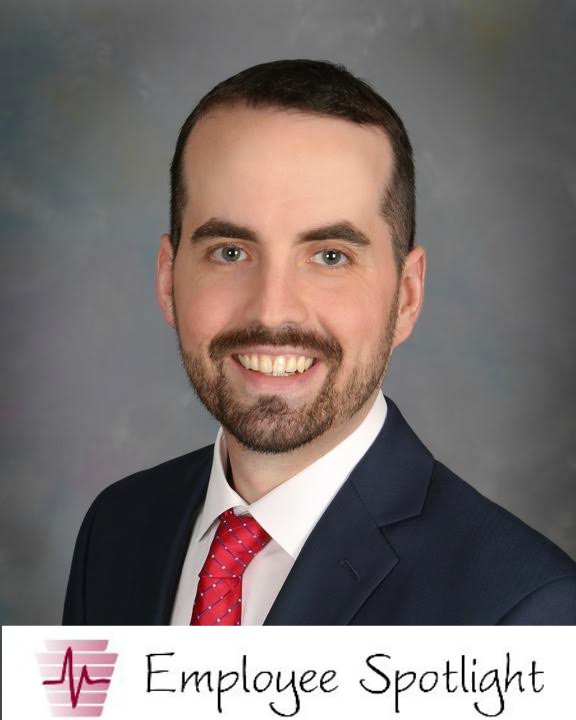 The Keystone Health Employee Spotlight for December shines on Greg Hoover, Speech-Language Pathologist at Keystone Pediatric Therapies!
Greg became part of the Keystone team in May of 2016 when Keystone acquired Edlantis Achievement Center and renamed it Keystone Pediatric Therapies. It didn't take long for Greg to feel at home.
"I felt a sense of family and overwhelming kindness upon meeting everyone at Keystone from the top, down," he said.
On a typical day, Greg sees about 12-16 patients who have communicative disorders.
"I love working with clients with social-cognitive impairments, especially teens," he said. "I'm passionate about helping them establish and maintain meaningful relationships with friends and family throughout their lifespan. I'm proud that I am allowed the opportunity to help shape a child's speech or language into meaningful and effective communication. It excites me to know that my clients will use the skills they learned at Keystone Pediatric Therapies to accomplish great and fulfilling things in the academic, social, and vocational settings."
Like most Keystone employees, Greg sees the impact the company makes in our community each day.
"I am proud to work for Keystone Health because the company focuses on serving the needs of all of residents of Franklin County despite their ability to pay," he said. "Also, I feel like everyone has a voice here; everyone has the ability to communicate their thoughts and ideas to help make the company a better place for all."
When he's not at work, Greg enjoys playing guitar, watching movies, biking rail trails, and cooking traditionally prepared foods. He also enjoys reading, and his favorite book is All The Light We Cannot See by Anthony Doerr.
While he now calls Franklin County home, Greg grew up in DuBois, Pennsylvania as the youngest of four boys.
"What I like most about the Franklin County region is the access to fresh, local produce, the minimal amount of snow compared to my hometown, and access to beautiful state parks and hiking trails within a short driving distance," he said.
Thank you, Greg, for all that you do for Keystone and our patients!