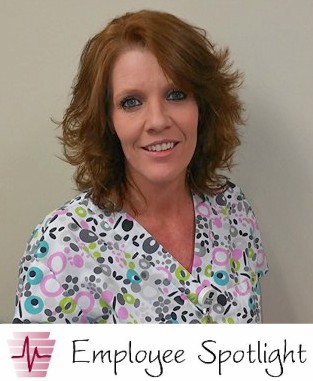 The Keystone Health Employee Spotlight for February shines on Faith Barnes, Clinical Supervisor and Dental Assistant at Keystone Dental Care!
Faith began working at Keystone in October of 2008.
"When I completed school, I hand-delivered my resume to every dental office from Hagerstown to Chambersburg," she said. "I made myself a note of each one that I liked. The receptionist at Keystone Dental was the main reason I called and pushed for an interview at Keystone. She was kind and made me feel welcome, and was happy to answer my many questions."
When you ask Faith, she'll tell you no day is typical when it comes to her job. She works at both Keystone Dental locations – Chambersburg and Mont Alto, and starts her days by ensuring all of the Dental teams have the help and supplies they need to care for each patient. From there, she keeps busy with various things, which can change from day to day.
"Some days I'm assisting; others I'm working on cases in the lab for our providers, ordering supplies, putting supplies away, doing compliance checks, handling any repairs or any other issues that arise on a daily basis, and helping anywhere I'm needed," she said.
Faith enjoys that her job keeps her busy and that no two days are alike. She also enjoys working with her Keystone Dental teammates.
"Our staff is welcoming and understanding to all our patients and their individual needs, not to mention that everyone here is more like family than co-workers," she said. "We look out for each other and lend a helping hand or any support that someone needs."
Faith takes pride in working for an organization that puts its patients first.
"I know everything that we do here is done the way it should be," she said. "We meet high expectations every day, which allows us to continue to grow and give the best care to those who need us most. We are able to help those who may have hit hard times or those who need immediate attention. No matter the issue, the patients' needs come first and everything we can do, we will do.
"We currently have six of the best dentists around, who provide nothing short of compassionate care, patience for challenging cases, and follow through with their very best work. There is no limit to what they will do for patients, and if that means losing some or all of their lunch or working after their day is over, they will do what it takes to provide care.  Each and every patient receives the very best care that our dentists can provide. I'm very proud to work with them and refer my family and friends here."
When she's not at work, Faith enjoys riding motorcycles with her husband, hunting, fishing, camping, and reading. (Her favorite books are the "Twilight" series.) She also looks forward to a yearly vacation with her kids. One of her favorite destinations is the beach – even though she's not a fan of water.
"Some people would be surprised to know that I hate water but love the beach," she said. "Since my husband and I have been together he has helped me with the fear of drowning. It takes a lot for me to get in the water and it's usually brief. He knows that if he wants a picture of me there, he better be quick!"
Faith grew up in the very small town of Westernport, Maryland, and moved to Greencastle 12 years ago after meeting her husband. She has a 14-year-old son and three step-children, and now calls Franklin County her home.
"Franklin County was a great place for me to get a fresh start," she said. "The people here care about each other and smile at you walking by. Some even speak to you. Back home everyone knew everyone and that was expected. Here, it's a great feeling when you don't know them but they make you feel as though you do. I have been to different areas since then, but I have to say nowhere else felt like home."
Thank you, Faith, for all that you do for Keystone and our patients!