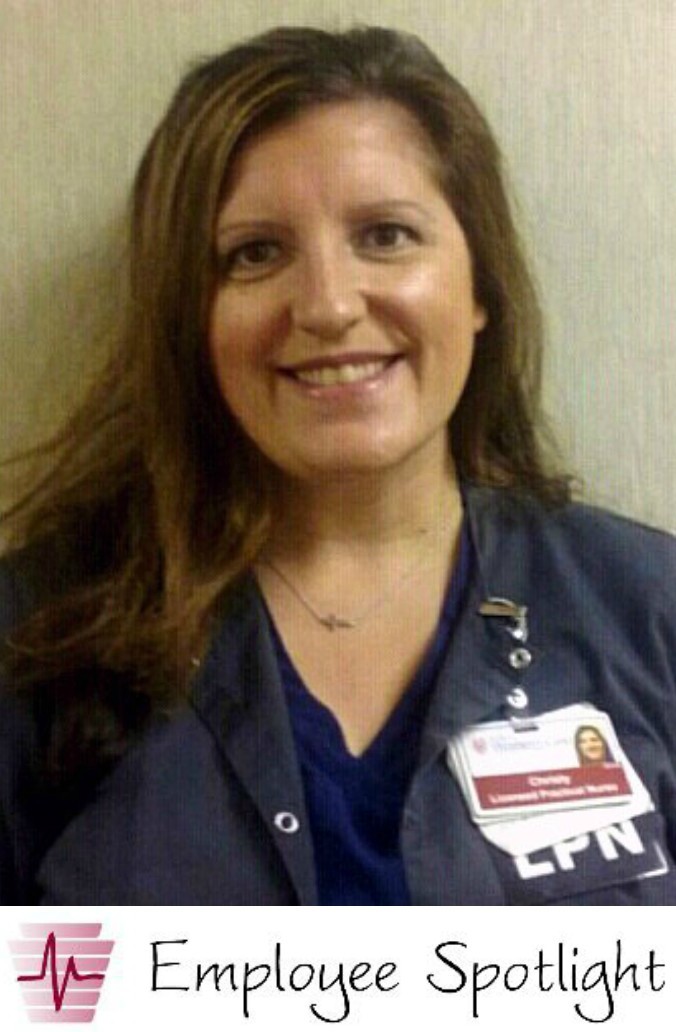 The Employee Spotlight for October shines on Christy Strong, Licensed Practical Nurse at Keystone Women's Care!
Christy's journey at Keystone began not as an employee, but as a patient. "I was a patient of (Certified Nurse Midwife) Kim Amsley-Camp," she said. "At the time, I was working at a nursing home in Gettysburg. While attending a prenatal appointment, one of the nurses told me that there was a full-time opening at the office. I immediately filled out an application and was hired at 24 weeks gestation!"
Nearly eight years later, Christy is glad she made the transition.
"My favorite parts of my job are the patients, my amazing work family, and the nursing supervisor here," she said. "I'm also incredibly blessed to work with an amazing group of providers. The environment is very friendly and caring, and I enjoy learning and exploring new things in this office. I'm always trying to find a way to help and improve the quality of patient care, and I've had some wonderful patients that I have become friends with outside of work. Keystone is a fun place to work. I simply love my job."
She's also glad to work for a company that puts its patients first.
"Keystone Health truly complies with their mission statement," Christy said. "Keystone makes several practices available to the community, including new and expanding facilities. They offer healthcare to the uninsured, and there are financial counselors and navigators who are available to set up payment arrangements for the patients. Joanne Cochran is a true advocate in supporting Federally Qualified Health Centers."
Christy's workday begins at 7 a.m. and doesn't end until 5:30. As Certified Nurse Midwife Emily Hoger's primary nurse, she tries to keep the day running as smoothly as possible. After opening her rooms and making sure she has all the needed supplies, Christy looks at her schedule and tries to map out the day – though that can easily change. She keeps busy by rooming patients, documenting and updating their charts, giving injections and immunizations, and more. When Emily is out of the office, Christy assists with whatever is needed, including helping the triage and prenatal nurses.
"Knowing that I can make the slightest difference in a patient's day makes me feel proud about the work I do. Whether it's scheduling an appointment, making a phone call, explaining a procedure, talking to a patient about their day, holding a patient's hand, or listening to their concerns – it makes me feel confident in my work as a nurse. My day is hectic and busy, but it goes by extremely fast."
While Christy grew up in West Mifflin, Pennsylvania, just outside of Pittsburgh, she now calls Chambersburg home. She lives here with her husband Ken, and their two sons: Jake who is 7, and Ben who is 6.
"Outside of work, I'm a full-time mom," she said. "I like to volunteer at Hamilton Heights Elementary School on my day off. I love being active with my boys and spending time with family. I enjoy the little and simple things in life like being outside, hiking, and walking, I enjoy making crafts, decorating, shopping, and cooking. I also enjoy road trips back to Pittsburgh! Chambersburg is a very warm and friendly community. I'm also happy that the area is growing and we are bringing more business and development to the area. I appreciate the pretty views of the mountains and love the State and local parks that surround Franklin County."
Thank you, Christy, for all that you do for Keystone and our patients!