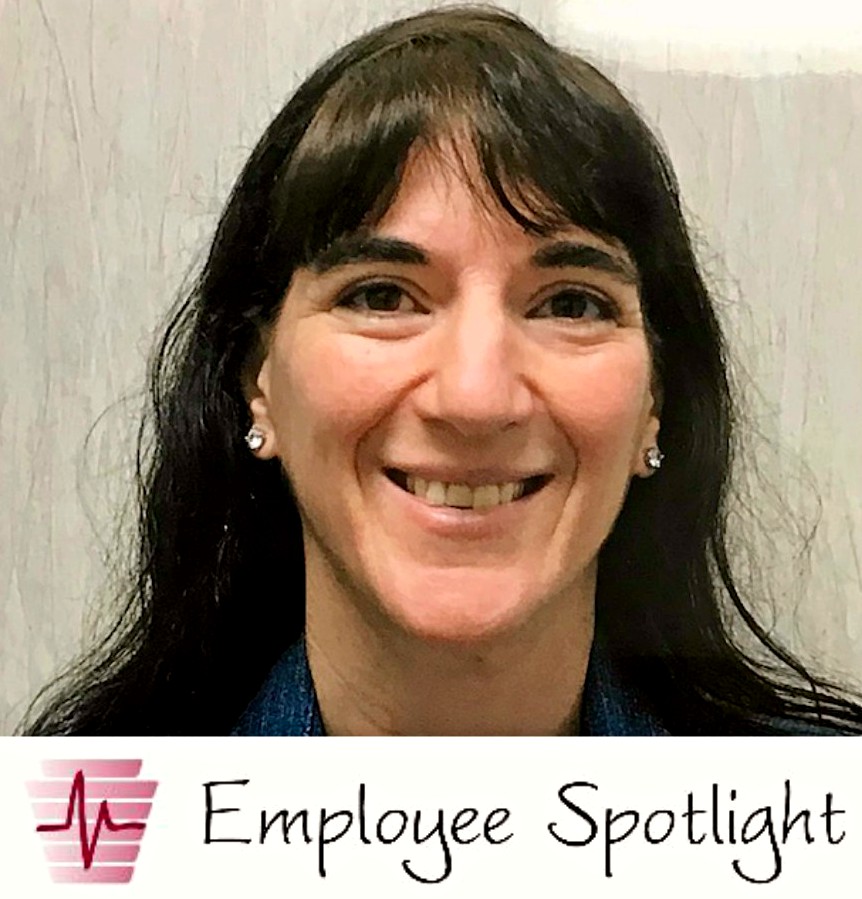 The Keystone Health Employee Spotlight for February shines on Andrea Schvartz-Mazie, charge poster at Keystone Women's Care!
Andrea started her career at Keystone in February 2011 when she was hired as a receptionist, and after a year transitioned to charge posting. She was familiar with Keystone from taking her daughter to Keystone Pediatrics, and she had also heard good things about the company from her neighbors.
"I liked what Keystone stood for and I benefitted from the reduced fee program as a patient," she said. "I am proud of what we do here – always helping not only within the community, but with anyone that needs help and guidance."
While charge posting is the main part of her job, Andrea enjoys being a team player and helping out wherever she can. She is bilingual and is always happy to translate for our Spanish-speaking patients when needed.
"A typical day for me is coming in, running my lists, and posting while helping the receptionists check in patients," she said. "I also help translate prescriptions for the pharmacy and for patients that need help while being at the pharmacy. Every once in a while I help through the phone at Keystone Urgent Care with their check-in process.
"I love what I do. Posting is fun and translating is fulfilling. It makes me proud when I do my work with little or no mistakes and when I get to help a patient – whether it is translating in our practice, Urgent Care, or the pharmacy."
Andrea speaks Spanish thanks to her upbringing in Argentina, where she lived until she was a teenager.
"My father is Italian and my mother has a Ukrainian background," she said. "I moved to northern Virginia when I was 14 years old and finished growing up there."
She enjoys the small-town feel of Franklin County compared to northern VA, and is glad she and her husband settled here.
"My husband Hal and I have known each other for 25 years and have been married for 20 years," she said. "We have four amazing children together, with our last one at Frostburg University. We also have two super cute grandchildren!"
In her free time Andrea enjoys reading – especially her favorite author, John Grisham, and also likes works by Aaron Sorkin. She relaxes by listening to instrumental music mixed with nature sounds, and enjoys exercising as well.
"I used to do Zumba for fun and to stay fit," she said. "Now I usually just walk with my dog, Nina, during the good weather. She is a big, strong rescued puppy. It has always been my dream to have an animal shelter, and/or a big building as a children's shelter."
Thank you, Andrea, for all that you do for Keystone and our patients!