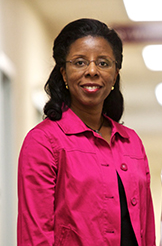 Dr. Yvette Brown, Medical Director and Obstetrician and Gynecologist at Keystone Women's Care in Chambersburg, PA, has received the 2018 College of Medicine Affiliate Site Teacher of the Year Award. Each year, clerkship directors identify one faculty member and recognize that member for their excellence and commitment to the education of medical students.
Joanne Cochran, President and CEO at Keystone Health, said "We at Keystone are very proud of Dr. Yvette Brown. She exemplifies all those qualities in the ideal physician: loving, caring, sharing, giving, dedicated, and non-judging. We are blessed to have such a woman of high standards and exceptional integrity as part of our community network of physicians."
Dr. Brown received her award on February 5th at an awards presentation at the University Conference Center in Hershey, PA.
For more information about Keystone Women's Care, click here.