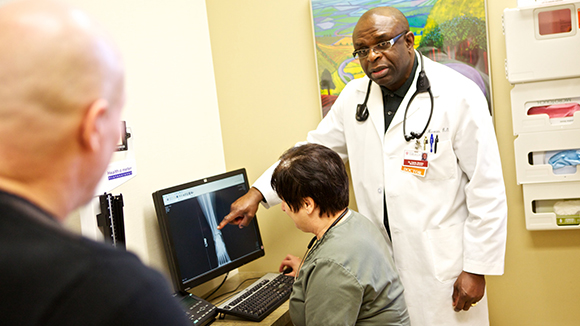 Office Hours – 7 am – 8 pm daily, including Saturday and Sunday. Closed Thanksgiving, Christmas and closed at 5:00 p.m. on Christmas Eve.
Emergencies When the Office Is Closed – If you have a serious emergency, immediately call 911 or go to the hospital emergency room. When the office is closed, if you have a serious medical problem that is not an emergency but can't wait until we reopen, please call your primary care provider.
Labs and X-Rays – Although some lab work and x-rays may be offered at our facility, you may be billed by non-Keystone specialists who are sometimes needed to process and interpret the results for us.
Lab and Test Results – At your visit, your nurse or provider will tell you how to get your lab results.
Medical Records – The information in your record is confidential and will not be given out without your written permission. If you want your records given out, please come to the office to sign a consent to tell us where the records should be sent. There may be a charge for this service.
Payment for Services – Services are available to everyone. We participate with most insurances and accept Medical Assistance and Medicare. We have a reduced fee program for those who qualify, and we will work with patients to set up a payment plan if necessary. Your payment is due at the time of service unless other arrangements have been made.
Billing Questions – Call our Billing Office at 709-7922 Monday through Friday from 8:00 am to 5:00 pm if you have a question about your bill.
Complaints, Suggestions, or Comments – During your visit, feel free to talk to any of our staff if you have a question or concerns. You can also complete a comment card and drop it in the comment box in the waiting room. If you feel you need to speak with someone directly, you can call the office at (717) 709-7979 and ask for the director of Keystone Urgent Care. If your concerns remain unanswered, you have the right to notify the Joint Commission on Accreditation of Healthcare Organizations at www.jointcommission.org or by calling 1-800-994-6610.