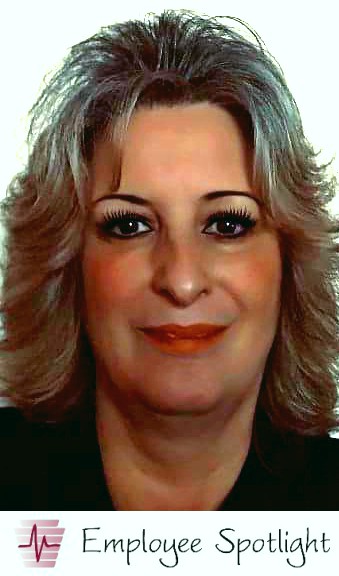 The Keystone Health Employee Spotlight for November shines on Betty Parker from our Billing Department!
Betty is among Keystone's most tenured employees. She began her career with us in June of 1999 as a part-time receptionist in an office Keystone then had in Dry Run, PA. That location has since closed, but she wanted to continue working for the company.
"In 1999 I was going through medical secretary schooling and did my shadowing at the Dry Run office," Betty said. "After a couple weeks and toward the end of my course, the office manager there offered me a part-time job as a receptionist. I accepted and here I am 19 years later."
During that time she has held several different job positions within Keystone including receptionist, medical records technician, data entry technician, collections representative, and now billing representative. Through the years she has always appreciated working for a company that is making a positive impact on our community.
"I've learned so much from what Keystone Health stands for and from what Joanne (Cochran) does for our community," she said. "We offer health care to a lot of people who cannot afford it otherwise."
On a typical work day Betty keeps busy with posting insurances, assisting patients, resolving issues related to insurance companies and contacting the companies for payment.
"I enjoy working with our patients," Betty said. "I like to help them understand their billing statements and help them resolve any issues they're having with their insurance company. I also work with the best group of people. They make it a joy to come to work every day."
Betty also gets a lot of happiness out of spending time with her family. She lives in Shippensburg with her husband of 37 years, Erick.
"My husband is my best friend and he inspires me to always be me and to reach for whatever I want to achieve," she said. "We have two beautiful children, Shawnna Lynch and Derek Parker, and two adorable grandchildren. We also have our big boy Maximus, our chocolate lab who we all adore."
Before moving to Shippensburg Betty and her family lived in Path Valley where her children grew up.
"We waited to move until our children were out of high school so they could graduate with their classmates; that was our promise to them," she said. "We love living in Shippensburg now. We enjoy walking around our neighborhood and meeting our neighbors. We also enjoy camping with our family, vacationing at the beach, and I love shopping with my daughter and being connected at the hip to my husband. I constantly want to make people happy and have always been like that."
Thank you, Betty, for all that you do for Keystone and our patients!