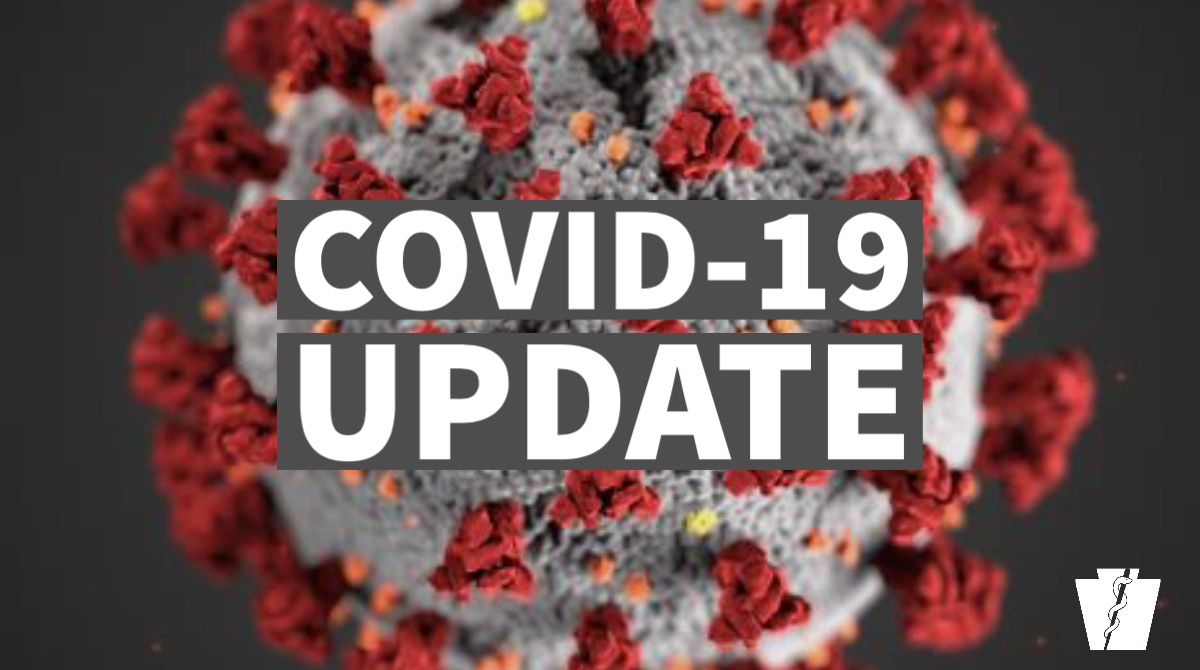 The virus causing coronavirus disease 2019 (COVID-19), is not the same as the coronaviruses that commonly circulate among humans and cause mild illness, like the common cold.
The virus that causes COVID-19 seems to be spreading easily and sustainably in the community ("community spread"). Community spread means people have been infected with the virus in an area, including some who are not sure how or where they became infected.
What are the COVID-19 Testing Options at Keystone Health?
If you have symptoms that are concerning for COVID-19, including cough, shortness of breath, fever, loss of taste or smell, or sore throat, our providers at Keystone Urgent Care, located at 111 Chambers Hill Drive, Chambersburg, can evaluate you and determine if COVID-19 testing is appropriate.
If you have no symptoms of COVID-19, but are concerned that you may be infected, you can receive testing at Keystone Pediatrics, located at 830 5th Avenue, Chambersburg.  Any asymptomatic person, at any age, can receive COVID-19 testing at Keystone Pediatrics, no appointment is necessary.
Testing will be performed by Quest Diagnostics, a national clinical laboratory, at a charge of $67.*
At a provider's discretion, a point of care test will be performed by Keystone Health at a charge of $70.*
*Additional fee for office visit applies.
Operational Updates within Keystone's Practices and Programs
In order to continue to meet the needs of our community safely and effectively, we have implemented several important organizational changes within our practices and programs.
Keystone Dental Care: We are providing emergency and urgent care services and we are resuming non-emergency dental care on a limited basis. Patients experiencing a dental emergency, such as severe pain or swelling, should call (717) 709-7940. Limited hygiene services have resumed, however hygiene visits will look different. CDC guidance indicates, the use of water spraying devices should be avoided during all dental care including hygiene services. 
Keystone Urgent Care: hours will change to 8 am- 6 pm, daily.
Keystone Pediatrics– Chambersburg: hours change to 8 am- 5 pm Monday thru Friday (this includes the Pediatric Walk In Program)
Keystone Community Health Services (111 Chambers Hill Drive, Suite 102) is not accepting walk-in patients at this time, and is open for family planning/STD testing and treatment appointments on Tuesdays, Wednesdays and Thursdays. Please call the office at (717) 709-7909 to schedule an appointment.
Keystone Pharmacy: Storefront is open – curbside pick-up is available. Click here for information on curbside pickup.
-The following practices are now providing telemedicine services. Please call the office to determine if telemedicine is an option for you:
Keystone Behavioral Health- call (717) 709-7930
Keystone Family Medicine- call (717) 709-7999
Keystone Women's Care- call (717) 709-7990
Keystone Infectious Diseases- call (717) 709-7909
Keystone Internal Medicine- call (717) 709-7970
Keystone Pediatrics- Chambersburg call (717) 709-7950
Keystone Pediatrics- Waynesboro call (717) 387-8060
We ask that patients bring no more than ONE visitor with them to an appointment within any of our practices.
These changes are temporary and are effective until further notice.
What are the symptoms of COVID-19?
The symptoms of COVID-19 are similar to other respiratory illnesses, such as the common cold and flu. The most common of these symptoms include:
Fever
Cough
Shortness of breath
Loss of taste or smell
Sore throat
Chills/body aches
Diarrhea
Congestion
Runny nose
According to the CDC, symptoms can range from mild to severe, and even life-threatening.
How can I protect myself and others?
The best prevention for COVID-19, the flu and colds, is to practice proper handwashing and respiratory etiquette. Help stop the spread of viruses by:
Wash your hands with soap and water for at least 20 seconds and avoid touching your eyes, nose and mouth with unwashed hands. Use an alcohol-based hand sanitizer if soap and water are not available.
Cover your mouth and nose with a tissue or your sleeve (not your hands) when coughing or sneezing.
Clean surfaces frequently, including countertops, light switches, cell phones and other frequently touched items.
If you are sick, stay home and avoid contact with others.
What is Keystone Health doing to prepare?
We are actively monitoring the situation, and we have deployed a COVID-19 readiness team that meets as often as appropriate to assess the situation. Our practices are prepared to respond when necessary. Everyone is encouraged to do their part by practicing good hand hygiene and good respiratory hygiene (sneeze and cough into your elbow, not your hands), as well as good cleaning  and disinfection processes.
We have begun to screen patients for COVID-19 symptoms at all Keystone Health locations. Patients will be asked a series of questions including those related to presence of respiratory symptoms and fever. If a patient has screened positive for these questions, they will immediately be ushered to an exam room inside the building, away from any other patients and staff, evaluated for their clinical condition, and if necessary will be offered testing for COVID-19, and appropriate treatment for their symptoms.
We require all staff and patients over the age of two to wear a face covering. We have also placed signs at the entrances of all of our practices, asking patients to immediately tell our staff if they have come in contact with someone known to have tested positive or are experiencing symptoms. We have introduced similar messages into our online scheduling and appointment reminders. In addition, we have placed an alert and information on our main website.
We also ask that patients bring no more than ONE visitor with them to an appointment within any of our practices.
We will continue to evolve our plan as we monitor the situation.
Donations Needed
We have received many messages from community members asking how they can help. We greatly appreciate everyone's generosity and willingness to contribute! Here is a list of supplies we currently need at Keystone and would greatly appreciate any donations.
Face shields
N95 masks
Isolation gowns
Gloves (even expired gloves)
Alcohol prep pads
Many people have also asked about sewing masks for us. While we are not currently using cloth masks, we will accept cloth mask donations in case we run out of our current supply. Here are our requests for homemade masks:
1. Form fitting at the top over the bridge of the nose, made with items such as a pipe cleaner, twist tie, etc.
2. Leave a piece of the mask unsewn at the bottom for the insertion of a filter
3. Adult and pediatric sizes are appreciated
Here is a video which shows how these masks can be made: Click here for YouTube video
In addition to N95 masks, we are also accepting the following types: surgical N95, N99, N100, R95, P95, P99 and P100.
We are accepting donations at our screening tent located at 111 Chambers Hill Drive, Chambersburg. Thank you so much to our generous community members! We appreciate you!
Stay informed
The CDC and Pa. Department of Health are the best resources for up-to-date information regarding COVID-19. For the latest updates visit the CDC Coronavirus webpage and the Pa. Department of Health webpage.